April Shemtov Attorney Spotlight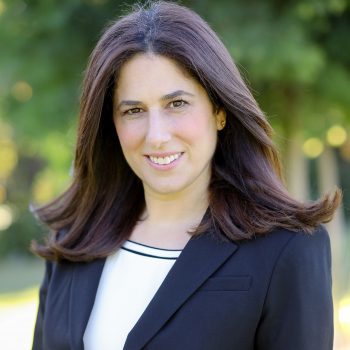 April Shemtov was born and raised in Israel in a suburb of Tel Aviv. Her family moved to Atlanta, Georgia when she was in middle school. She received her undergraduate degree in Business Management from the University of Georgia and her law degree from Georgia State University. April is admitted to practice law in both Georgia and California. April resides in West Los Angeles with her husband and their two children. In her spare time, April enjoys doing creative art projects with her children and trying out new recipes for her family's restaurant business.
April devotes her practice at CunninghamLegal to estate planning and trust administration. Prior to joining CunninghamLegal, April was the Trust Administrator at UCLA overseeing trust and estate matters on behalf of the University and is very knowledgeable on the various types of vehicles for charitable giving.
Get to know April Shemtov in our Attorney Spotlight:
What do you enjoy doing in your free time?
In my free time I enjoy taking my kids hiking at different spots around Los Angeles and cooking, as I like to try out new recipes.
What is your proudest moment to date?
My proudest moment was becoming a mom. Professionally, I'd say joining a law firm that truly cares about its clients. I am proud of the work we do here at CunninghamLegal as we continuously strive to understand our clients' needs and concerns and create a plan that will work for their family.
What sets you apart from other estate planning attorneys?
I am genuinely passionate about helping families. That passion is reflected in the work I do. I am very accessible for questions at any time during the process, as well for future questions that may arise. It is important to have open communication and genuine care. My clients often share very personal stories about their family as it relates to their estate planning needs. Not one family is like the other, so not one Estate Plan is like the other. The connection and trust I can establish with my clients allow me to get to know and protect their families to the best of my abilities.
What is the most common problem you see in estate planning?
We often find that clients do not take the steps required to get all their assets into their Trust. This step is called "funding" the Trust and is potentially one of the most important steps. Without it, you may not be able to avoid future hefty expenses in the probate process.
What would you say separates CunninghamLegal from other estate planning law firms?
Our comprehensive approach. We not only ensure that our clients have a great Estate Plan, but we provide continuous client education materials such as our recently implemented Legacy Care Program. In this program, we work with clients on funding their Trust annually and work closely with financial advisors to ensure the financial plan matches the Estate Plan.
If you would like to hear more from April, attend one of her free upcoming Woodland Hills seminars.